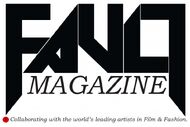 Fault magazine collaborates with artists in the fashion, film and music industry. It operates its own non-profit magazine as a platform for identifying young creative people of merit (writers, musicians and artists in different disciplines, i.e. visual arts and film, architecture, design). Fault Magazine also invests in new and emerging talent in the areas of art and design, literature, music, film and photography.
Issue 20: The Faces Issue, Spring 2015
Edit
Kylie Jenner covered the magazine for the first time in February 2015. In her interview, Kylie discusses her thoughts on 'significant others', the pressures of fame, how her public persona only shows one side to herself, her views on materialism versus spiritualism and how she deals with criticism of herself and her family. Read the article and learn more here.
Community content is available under
CC-BY-SA
unless otherwise noted.